Powerful yet Calm
Impressive purple brings you tranquility and energy. It's the color of ambition, creativity, power and inspiration. Every pair of birthstone earrings in this collection brings you elegance and strength, any time you need it.

Feel beautiful and empowered every time you wear our earrings and embrace the beauty and energy of color.

Chose between different styles of Amethyst (February Birthstone), Light Amethyst (June Birthstone) or Rose (October Birthstone) hypoallergenic earrings.
Explore collection
Earrings You Can Wear Everyday
Birthstone Earrings
Our birthstone earrings in this collection are made with all the beautiful colors of nature.
Combined with stainless steel or 14K gold, these stones will make all your wishes come true.
Wear our birthstone earrings, make a wish and be ready to receive.
These earrings are here to encourage you and give you strength every day and on every occasion.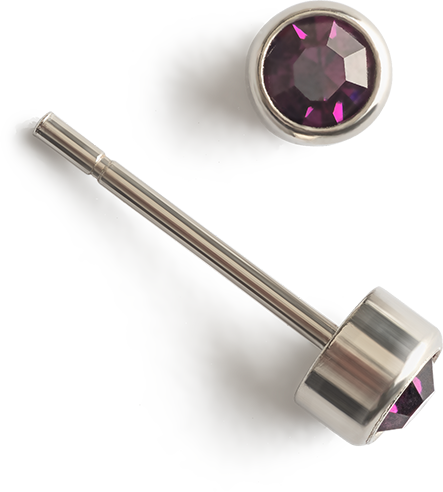 Earrings for joy
Earrings in this collection are delicate, charming, elegant and sweet.
With different shades of purple, they bring you elegance, relaxation, brilliance and confidence.
They are here to make you feel good and beautiful.
The earrings are made nickel-free and hypoallergenic to consider your bodies well being inside and out.
Dreams do come true
Whatever they tell you – a world in which dreams come true really exists.

No matter what life throws your way, never give up on your dreams and desires. Don't let anything get you down and face every obstacle with strength and determination.

Browse our first release of Over the Rainbow collection and find your perfect purple pair of earrings that will make you shine every day. Start dreaming big and good things will come to you!
SHOP NOW