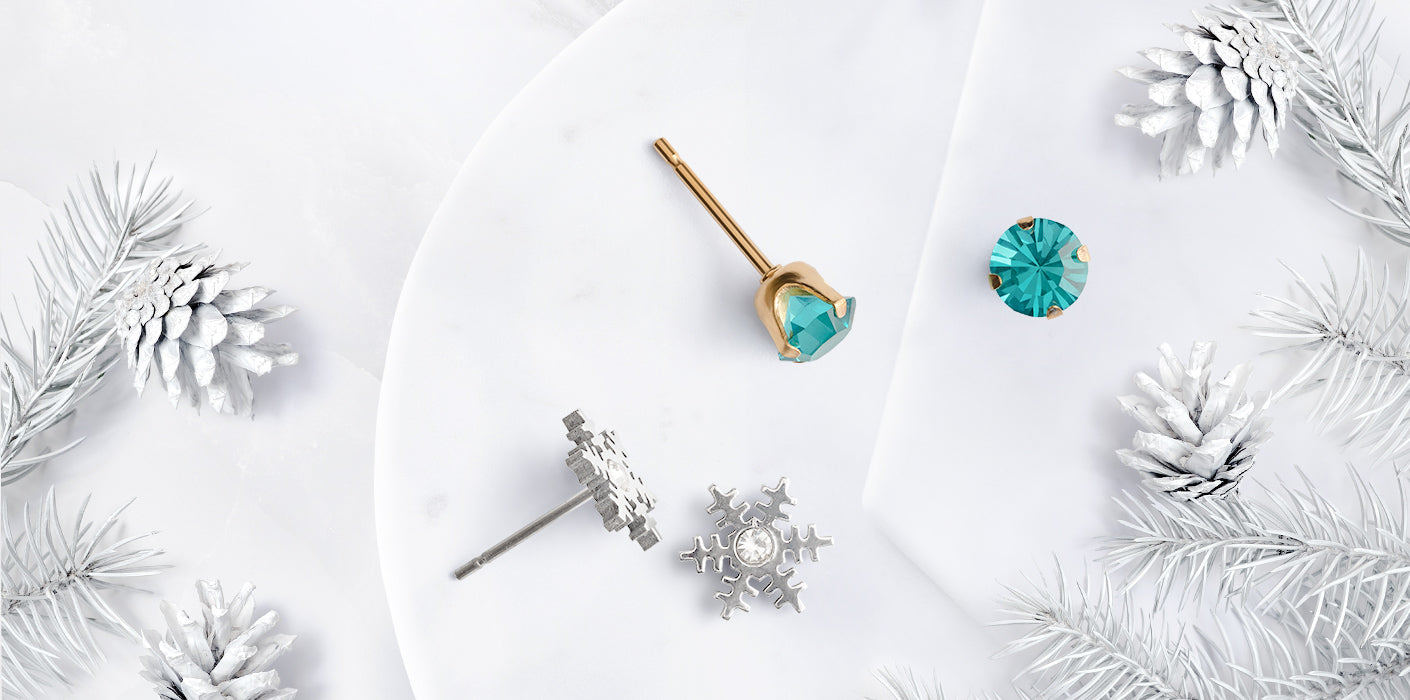 What Causes Jewelry Allergies
Nickel (Jewelry) Allergies
When people experience jewelry allergies, they often ask questions about the allergenic properties of different materials - "are stainless steel earrings good for sensitive ears" or "is gold hypoallergenic". Unfortunately, the answer is not that simple.
Majority of us might not be allergic to silver earrings - or gold ones - but might be allergic to nickel that is found in gold, silver, or stainless steel jewelry. 
Alloys define the safety of your jewelry
Fine jewelry is created from precious metals, or more commonly, mixtures of metals, known as alloys. Every alloy consists of two or more metals, and very often, one of them is a nickel.
Nickel has excellent properties since it makes jewelry durable and shiny, it is cheap and easy to work with. Nickel is used for cutlery, watches, buttons, belts, pans, smartphones, cars… and exposure to nickel in our daily lives reached a levels that does harm to our bodies, and each year we witness more and more nickel allergy reactions.
As a result of the awareness about nickel-related allergies, the market is flooded with a jewelry with "nickel free" and "hypoallergenic" labels. Unfortunately, almost every country has a different set of rules and regulations regarding nickel in jewelry alloys. In the United States, there are no government standards or regulations for using the terms "nickel free" or "hypoallergenic." Which means nobody controls the ingredients of the alloys declared as "hypoallergenic" or "nickel free."
Some manufacturers define "nickel free" as free of nickel in the plating or overlay, so they continue to use nickel alloys in the base metal to increase durability and reduce the cost of the production. But, this plating eventually wears, and the skin gets into contact with nickel. Even though we are talking about extremely tiny amounts - it can be enough to cause an allergic reaction in people with sensitive skin.
The European Union's (EU) Nickel Directive limits the amount of nickel that may be released onto the skin from jewelry and other products:
- 0.2 micrograms per cm per week for piercings (earring, body jewelry)
- 0.5 micrograms per cm per week for other products intended to come into direct and prolonged contact with the skin.
Is the "nickel free" label the same as hypoallergenic?
People with jewelry allergy often buy jewelry declared as "hypoallergenic," hoping it will not give them an allergic reaction. While there are products that really do not contain allergy-causing nickel, and their label is accurate (as in the case of Simply Whispers) - unfortunately, there are no regulations that define properties of such jewelry. 
Every brand can label their products "hypoallergenic" Even if the item contains nickel. So "hypoallergenic gold," hypoallergenic diamond earrings" or "hypoallergenic studs" label doesn't really tell us a lot about real properties and nickel presence.
And because the regulations are so undefined and vague, the only way to be sure your jewelry is safe is to buy it only from trusted companies like Simply Whispers.
Simply Whispers jewelry - highest standards and the purest alloys
Simply Whispers is a company with an almost 50-year tradition of innovating and challenging the status quo in piercing and jewelry production.
From the very beginnings of our work, we have been addressing the sensitive skin issues, engineering better alloys, and manufacturing processes that will enable everybody to enjoy jewelry and piercing without allergy risk. 
Our products are made of the top quality nickel-free base materials, such as 316 stainless steel, 925 sterling silver, titanium, 14 karat gold, and niobium.
We work closely with dermatologists, pediatricians, and our design team to create a safe and hypoallergenic line of beautiful jewelry our customers can trust.
Simply Whispers earrings are made of superior, nickel-free materials, they are designed to be incredibly lightweight and their finishing is smooth and delicate - which makes them best earrings for sensitive skin. 
Our brand is made around the effort to provide 100% safe nickel-free jewelry, made of purest and safest alloys we invented as an answer to the increasing need of our customers for nickel-free jewelry. 
We do not use labels "nickel-free" and "hypoallergenic" lightly - behind the labels we use is almost 50 years of dedicated research, work, and tens of thousands of happy and loyal customers.